 The challenge
To deliver the most significant change in UK policing since the 999-emergency number was rolled out across the UK in 1976. The client wanted a Single Online Home (SOH) for all UK police services to provide nationally consistent, locally branded services, brought together in a single 'digital police station'.
The Digital Policing Portfolio (DPP) vision statement was: "The experience of connecting with police through digital channels will be as helpful, personal and reassuring as approaching an officer on the street".
The solution
CDS used Optimizely (formerly Episerver) software, expertise and solutions developed for the Metropolitan Police Service website project to launch SOH, while extending the platform with new core services, and providing strategy, leadership and service delivery services, 24/7.
The result
CDS is onboarding all 43 UK police forces (including the Met Police, Hampshire, Merseyside, Surrey, Sussex, and Thames Valley forces) as well as associated police bodies. Given the pressures on policing, it's a priority to free up time and budgets, reduce administration and improve efficiency for officers - essential to our safety and wellbeing. SOH is being used by the Government as an exemplar of how a successful digital project should be run.
Over 60% of citizens (33.23m) in England and Wales now have access to SOH.
At a glance...
Sector
Challenge
A Single Online Home (SOH) was required for all UK police to provide nationally consistent services from a 'digital police station'.
Solution
CDS used Optimizely (formerly Episerver) as the technology platform for SOH.
The platform was extended with new core services and CDS continues to provide strategy, leadership, and service delivery services 24/7.
Results
So far CDS has onboarded 35 of 43 UK police forces to the new platform.
Over 60% of citizens in England and Wales have access to SOH.

The priority is to improve efficiency and deliver a secure, robust and world-leading experience to the public while freeing up police resources.
The CDS test team are proving to be a good team, and keen to support workloads and customer questions. There is also a keen drive to improve the scope and coverage of testing, which is in progress. "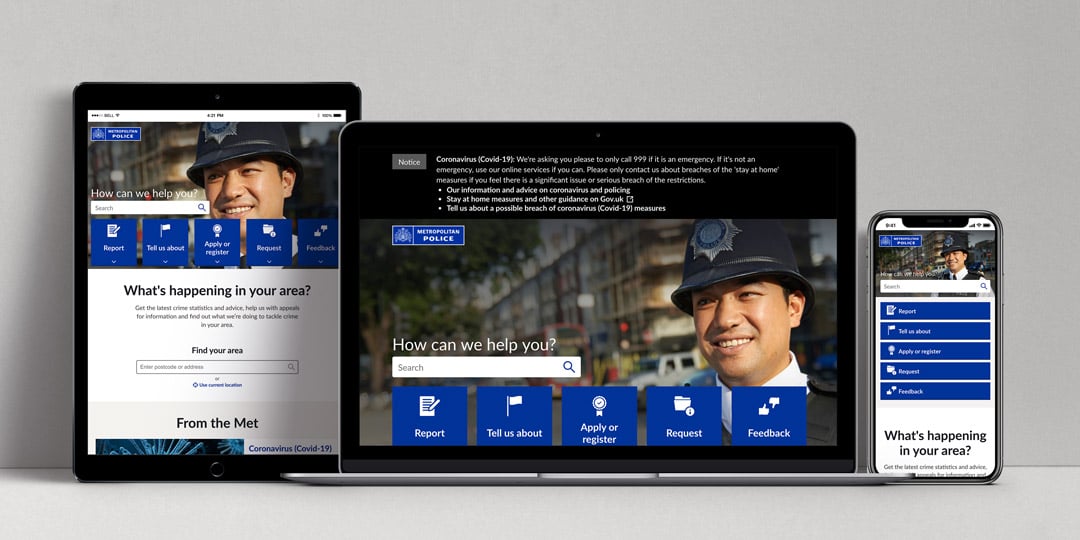 UK citizens now have access