Technology-enabled change for humans
Successful digital transformation needs human context and understanding
You'd never spend a fortune building your dream house without ensuring it had strong foundations. You'd never build it without windows and doors. Too often, commercial and other imperatives result in digital transformation through technology change that never quite delivers the required or expected outcomes.

Successful technology-enabled change should make things better for everyone, improving user engagement, speed to market or a step-change in process efficiency.

Strong foundations are to be found in a deep understanding of the human-centred needs of all internal and external stakeholders. A decision can then be made about what needs to change, and the 'design' for a technology-enabled future state can be built with confidence, based on the evidence gathered.

At CDS, we take a human-centred approach to gathering insight and designing technology solutions that deliver critical outcomes for businesses, service providers and users.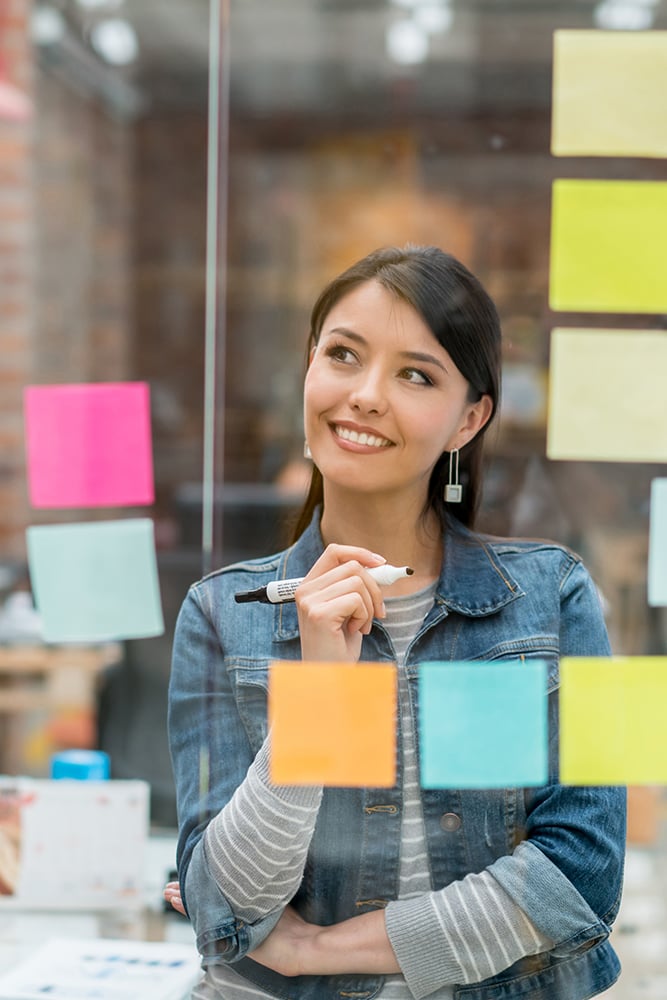 From insight to human needs centred design
Learn
What needs to change? Here we listen to understand the context of your change. We'll work to understand where you are, what your stakeholders need, and then work out what might need to change to deliver the outcomes you want, whether they be improved user experiences, a transformed back office, or a smoother, more efficient operation.
Design
How should it change? Whether your challenge is around users and how they engage, or around how the operation works to support them and internal stakeholders, based on our findings, together, we'll design a new human-centred service to meet your stated objectives. This is Design with a big D. It includes user experience and service design, prototyping, content, and creative strategy. All with a test-and-learn methodology that constantly evolves and improves the outcomes over time.
Implement
Whether the change is huge or tiny in scale, or whether we deploy our Design online or offline, we will deliver precisely what is needed – smoothly and with no sleepless nights for anyone. You'll be right at the heart of decision-making, in lockstep with us so that you and your team are both empowered and aligned.

And while we have an established partner ecosystem to call on, we're free to recommend the right approach and solution for you. We're laser-focused on outcomes and making a positive difference.
Optimise
Not every change has a 'Big Bang' moment; change can often be incremental, so visualisation and optimisation are vital tools to ensure that we're constantly returning the outcomes and results that make a positive difference to you, your end users, and your teams.

Changes to user and customer behaviour, new operating models or technology innovations lead to new learning opportunities.
Next
Learn:

what needs to change?
These services help us baseline your current situation, understanding where you are, what your users need, and what the business needs so that we have a complete and clear picture of the requirement. The evidence gathered here will help us make good decisions about what needs to change.
Who are the stakeholders?
How do they feel?
How does the 'service' work today. Is it efficient and effective?
Does it work for everyone?
What does the data tell us?
What do stakeholders and users tell us?
Services
Planning, benchmarking ​
User research, participant recruitment​
Customer and user experience research
Inclusivity: accessibility audit​
Service mapping 'As Is' – Problem to solve?​
Ecosystem/ Landscape mapping​
UX review baseline​
Business analysis (Operating model)​
Data quality & access
Design:

how should it change?
These services enable us to collaborate with you to build a vision for your future state. We will take a human-centred, evidence-based approach to design. It will include both the high-level design elements, including service and user experience design and the content and creative elements that will create engagement and bring your design to life.
Let's work through the issues together

Collaborate and co-create to design a new 'service'​

What impact does the proposed new service have on the operating model?​

How will we know it's the correct change?​

How will the change look and feel? What should the content and creative strategy be?
Services
Ideation / co-creation workshops

Strategy (performance planning)
To Be Service map - holistic
Service design and UX

Design – user experiences

Prototyping (processes, blueprinting, tech)
Content strategy
Content design/creation
Test and learn
Implement:

how do we deliver the change?
Implementation includes building and integrating the technology-enabled solutions that have been defined and designed specifically against your requirements to meet the needs of your users and stakeholders. This will often mean working with one of our best-in-class technology partners.
Whether your requirements are business process outsourcing, cloud and infrastructure services, operational transformation, or experience transformation, we use agile development techniques to build out a series of sprints that take us towards your defined outcomes within the parameters you specify.
What should the experience be like?​

What features does it need to include?

What technology should it be built on?

How interoperable is it?

Is it composable?

Does it work for everyone?​
Services
Secure cloud architecture, migration and hosting
Case management and process automation
Legacy applications and systems integration
Data management and optimisation
Digital experience platform strategy and build
Content strategy and content creation
Cloud-enabled operational and marketing print solutions
Cyber security and resilience
Accessibility strategy and implementation
Optimise:

what is the next change?
It's critical to understand and measure how far you have come in your journey and how far you are from your stated outcomes. This relies on having a clear view of data and baselines from the learn phase, but change is constant, and so too is our aspiration to continually measure success to optimise your solution in the pursuit of your objectives.
How do stakeholders feel about it now?​

What impacts can you see in the key business criteria – cost efficiency, risk and engagement?​

What have we learned about what we need to change next?​

Where are you against the baselines we set at Learn stage?

What needs to change next?
Services
Planning and performance
Data
Consultancy
Human-centred, technology-enabled, measurable digital transformation
Our process and the guidance around it, is designed to dramatically improve your chances of successful digital transformation. Customer retention, resilience in the face of rapid change and the ability to maintain business growth are critical during economically tough times.

So, where do you start? To gain a more in-depth understanding of one of the critical components, read more about how we deliver insight services to our clients.