Revitalising Wakefield Council's website: How user research led to a more accessible and user-friendly design The challenge
When Wakefield Council realised their existing website needed a makeover, they knew they had a real challenge. With limited funds and a tight deadline, redesigning the website seemed like a struggle. However, the council was committed to ensuring the new website would be accessible and user-friendly for their residents.
The solution
To tackle this challenge, Wakefield council partnered with CDS, an Umbraco Gold Partner that specialises in Umbraco website design and development. CDS understood that user research was crucial in creating a website that would meet the needs of Wakefield's residents. They conducted extensive research to identify pain points and gain insight into what users wanted from the new website.

Based on the research, CDS created responsive web page templates and a style guide to ensure the design was consistent and accessible across different devices. They also created a new information architecture that made it easier for users to find the information they needed. CDS conducted user testing during the design process to refine the design based on user feedback.
The result
The partnership between Wakefield Council and CDS resulted in a website that is now user-friendly and accessible, demonstrating the importance of research-led and human-centred design and development. Regular communication between CDS and the council ensured that the project was completed within the 16-week timeframe and within budget constraints.
" Working in partnership with CDS we have been able to completely transform the Council's website and begin the journey to further improve our web presence as a whole.
This has allowed the new site to be created to be far more intuitive regardless of the audience, some of the high points are:
A cleaner and less wordy design
Improved navigation and search functionality
Improved readability
Greatly simplified user journeys
Improved accessibility
Improved customer journeys and the ease of accessing information and transactional services were key to making this happen and working with CDS and using their experience in this area we've been able to put customers, businesses and visitors to the district at the heart of our new site. "
Andrew Hamilton
Service Manager (Technology and Digital Transformation)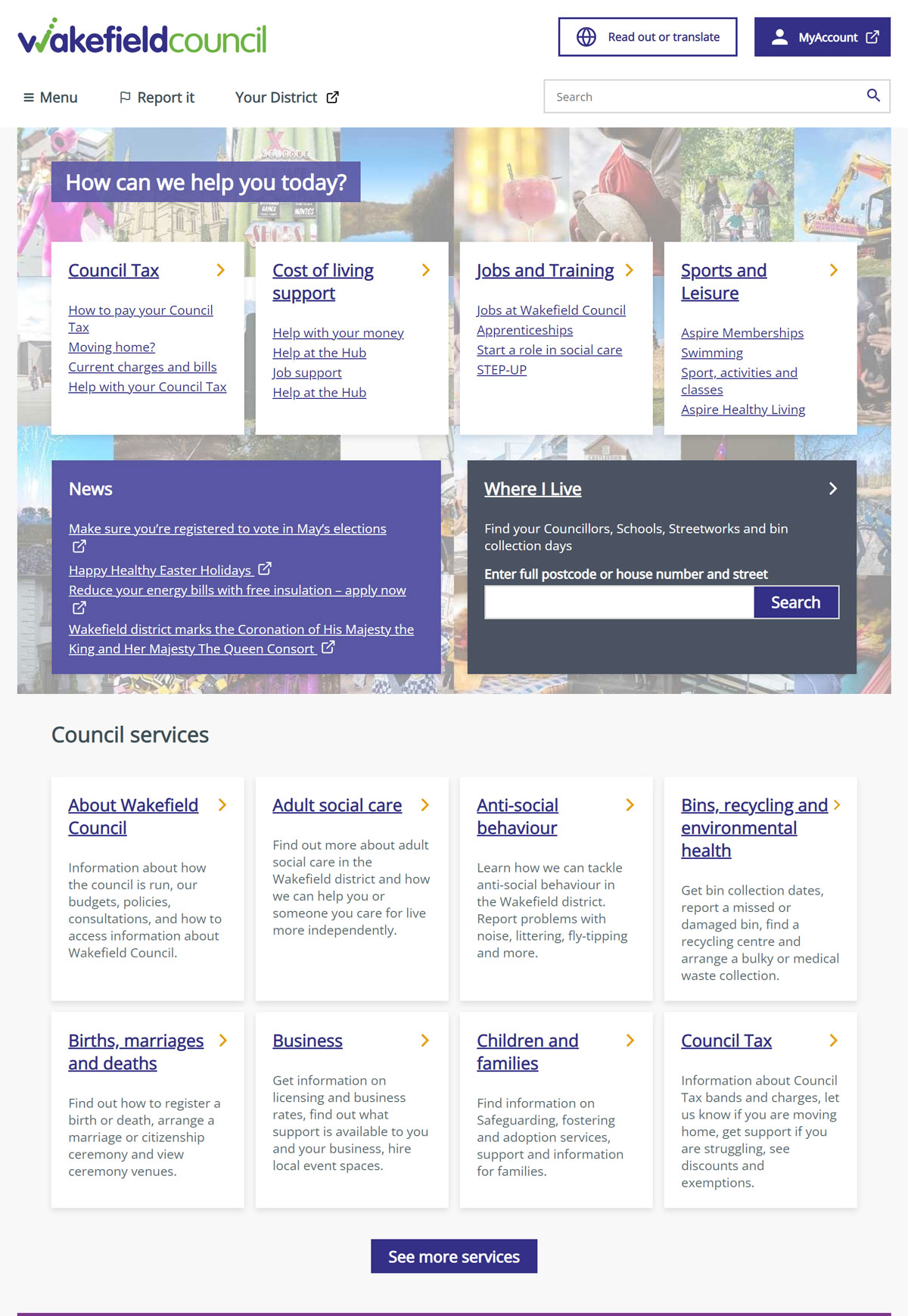 At a glance...
Industry
Challenge
Revamp the existing website within a tight deadline and a limited budget.
Ensure that the new website is accessible and user-friendly.
Solution
Wakefield Council partnered with Umbraco Gold Partner, CDS.
CDS conducted user research to identify pain points and user needs.
CDS created responsive web page templates and a style guide.
New information architecture was created.
A research-led human-centred design approach ensured user needs were met
Results
Wakefield Council have launched a user-friendly and accessible website.
The project was completed on time and within budget.